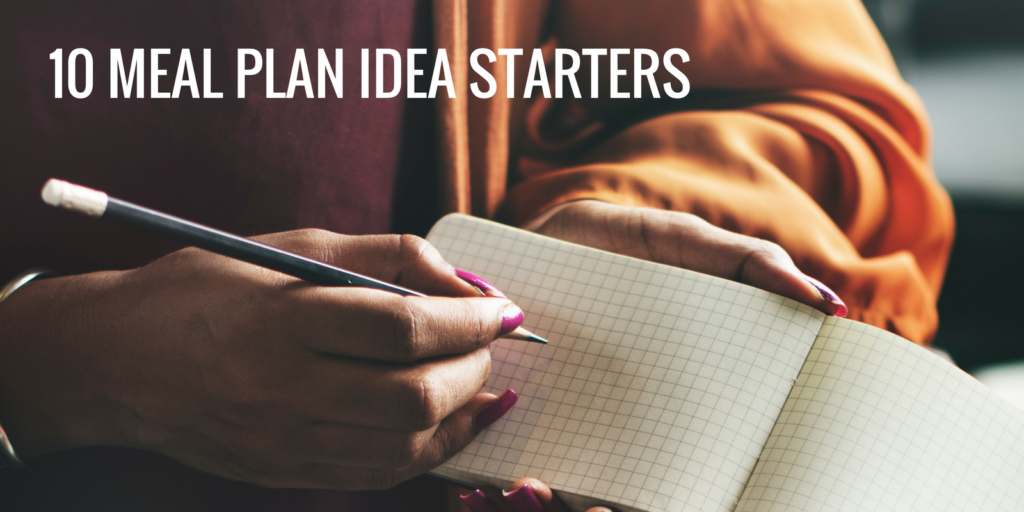 The hardest thing about meal planning is deciding where to start to search for recipes.  Do I look in my favourite recipe books?  Do I go to my favourite recipe blog? Should I look on Pinterest?  Or, should I ask uncle google but what do I type in the search box?
Sometimes, I can lose hours searching for recipes which defeats one of the reasons to meal plan – saving time.  To help, I am starting to create a list of meal night idea starters to help plan weeknight dinners.  I find it much easier to search for recipes for my meal plans when I have an idea to spark from.
How to use the meal plan idea starters
Assign a food them to each night of the week that you are meal planning for e.g. Monday will be pasta night.  Then use the idea starter to search for recipes.  There is a search function on the Bon App recipe page so that you can also search the Bon App recipes.  You can search by ingredient, recipe type or the recipe name.
For the following week, you can keep the same idea starters on the same days or can mix it up for a change.
Even though you're eating the same types of dishes, you'll be surprised at how varied your meals can be.
Here are the 10 meal night ideas to spark meal planning!
Pasta night
So many different types of pasta and sauces that you can try – fettucine, lasagne, linguine, fusilli, spaghetti, penne, rigatoni, conchiglie, farfalle and many more!
Salad night
Salads are so good for getting your 5 a day and can be super varied and filling. Just aim for a restaurant style salad with lots of tasty ingredients.
Chicken night
This can be chicken or poultry night.  There are so many recipes to choose from and don't forget to use different cuts of meat – thighs, legs, breast!
Rice night
Rice could be the main feature or the dish e.g. fried rice or could be the side, you decide!
Vegetarian night
This is a must have for every week of your meal plan so that you are eating more grains, pulses and vegetables.
Stir fry night
A Stir fry tends to be super quick meal to make and so is a perfect idea starter for a weeknight meal.
Fish night
Nutritionists are recommending that we eat at least two portions of fish a week so this is a must have for every week of your meal plan.  There are so many delicious fish to choose from too – cod, salmon, tuna, sea bass, sea bream, hake, plaice, trout, haddock to name a few.
Leftovers night
I usually keep one night free on my meal plan to leave flexibility in case our plans change during the week which means we skip a meal or so that we can use up any leftovers.
Pulse night
Pulses are a good source of protein and there are so many that you could try – peas, beans, chickpeas, lentils and soybeans.
Oven tray night
This is one of my favourite idea starters to include in my meal plans because not only is it quick and easy to prepare, there is virtually no washing up with a oven tray or tray bake recipe.