It's a weekend full of international food days!  This time it's Popeye's favourite food, spinach.
Did you know that during her reign as queen of France, Catherine de Medici was said to have enjoyed spinach so much that it was served at every meal.  To this day, dishes made with spinach are given the name "Florentine" reflecting Catherine's birth in Florence.
Spinach is also known for being a healthy part of a balanced diet because it's packed with nutrients such as Iron, Vitamin A and Calcium but why does it leave that weird feeling on your teeth!  Well Uncle Google reliable tells me that the effect is caused by the oxalic acid in the leaves and stems.  There are lots of theories on the web about how to remove the "Spinach teeth" feeling but there doesn't seem to be agreement on what actually works.
Personally, I love spinach and it's weird tooth feel so that's why the International Spinach Day inspired me to create this recipe – chicken stir-fry with spinach and rice.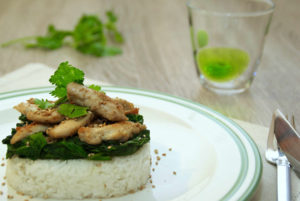 Chicken stir fry with spinach and rice
Preparation time: 10 mins        Total time: 20 mins            Recipe for: 2 adults
Ingredients :
2 chicken breasts
125g spinach
120g rice
1 clove of garlic
1 tsp coriander powder
1 tbsp soy sauce
0.5 tbsp sesame seeds
Steps
Cook the rice. In a bowl, mix the chicken strips with the crushed garlic and the ground coriander.
Fry the chicken strips in a frying pan for 5mins. Cook the spinach with the soya sauce in a saucepan with a lid for 3mins. Season to taste.
Serve sprinkled with grilled sesame seeds.  Bon App!
Tips
Grill the sesame seeds in a dry frying pan for 2 to 3 min until golden to increase the flavour.
Shape the rice using a metallic ring (or a plastic ring cut from a plastic bottle).